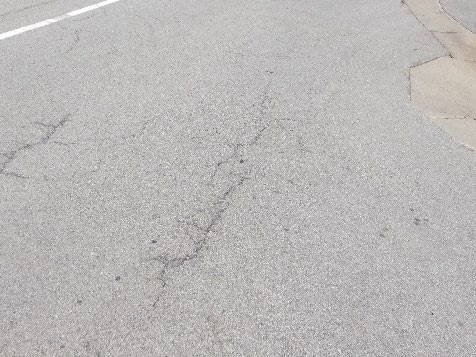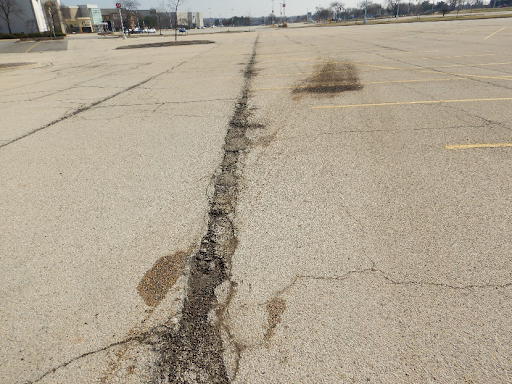 Longitudinal and Transverse Cracking
Cracks in asphalt concrete pavements are created by shrinkage of the asphalt layer due to aging (drying or oxidation) of the asphalt cement. The US Corps of Engineers define the distress as:
Description
Longitudinal cracks are parallel to the pavement's centerline or laydown direction. They may be caused by:
1. A poorly constructed paving lane joint or seam
2. Shrinkage of the AC surface due to low temperatures or hardening of the asphalt and/or daily temperatuure cycling
3. A reflective crack caused by cracking beneath the surface course, including cracks in PCC slabs (but not PCC joints).
Transverse cracks extend across the pavement at approximately right angles to the pavement centerline or direction of laydown. These types of cracks are not usually load-associated.
Severity Levels
Low One of the following conditions exisits: (1) non-filled crack width less than 3/8-inch or (2) Filled crack of any width (and filler in satisfactory condition)
Medium One of the following conditions exists: (1) non-filled crack width is greater than or equal to 3/8-inch and less than 3.0-inch; (2) non-filled crack is less than or equal to 3.0-inch surrounded by light and random cracking; or (3) filled crack is of any width surrounded by light random cracking.
High One of the following conditions exists: (1) any crack filled or non-filled surrounded by medium or high severity random cracking; (2) non-filled crack greater than 3.0-inch; or (3) a crack of any width where approximately 4 inches of pavement around the crack is severely broken.
How to Measure
Longitudinal and transerve cracks are measured in linear feet. The length and severity of each crack is recorded. If the crack doesn not have nthe same severity level along its entire length, each potion of the crack having different severity level should be recorded separately.
Edited from: Asphalt Surfaced Roads & Parking Lots, PAVER Distress Identification Manual, Developed by: US Army Corps of Engineers ERDC-CERL, M.Y. Shahin and S.D. Kohn.
Photographs from Zimmer Consultants.