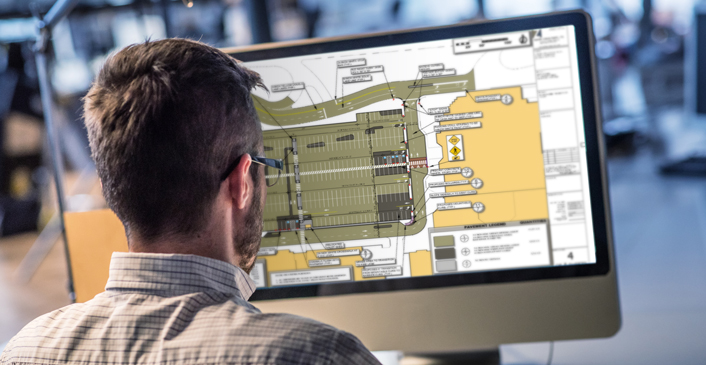 Pavement Management
Control costs and preserve your investment.
Parking lots are large, long-term investments that require smart management. Large paved areas are critically different than thoroughfares. A long, narrow ribbon of a roadway performs differently than a large paved surface. Zimmer knows the difference. Additionally, inconsistent construction methods mean performance can vary throughout one lot. These points make it difficult and costly to effectively manage this large investment.
Zimmer Consultants can help. Our pavement management programs allow you to preserve and improve upon your investment through informed decisions. Our consistent inspection and analysis procedures provide an accurate history of past decisions and their results — from property to property, from year to year. Then we help you fine-tune your action plan based on your goals and budget.
Parking Design
A pavement rehab program is the time to review parking.
Site changes, tenant expansion, and traffic issues can turn an initially good parking design into a problem. Parking has a major influence on visitors' experiences, which quickly translates to your tenants. If customers have difficulty parking, revenue is almost certainly in jeopardy.
Zimmer Consultants has years of experience in maximizing and optimizing parking.
Increase Parking Whether you need a simple reconfiguration or more complex solutions that accommodate expanding tenants, Zimmer Consultants is ready to help. In many cases, we've found ways to increase parking without erecting parking decks or reduce the proposed size.
Create a Master Plan Our master planning process answers most "what if" questions. We help you explore how your parking layout will affect density and expansion now, and in the future, so you can plan appropriately.
Determine current parking inventory
Determine required parking ratio
Determine maximum parking available on site
Balance expansions and out-parcels
Install Traffic Calming We design traffic calming features that discourage inappropriate access (such as commuters cutting across a lot) and encourage awareness. Features include landscaped islands, textured surfaces, roundabouts, and raised crosswalks.
Construction Services
Zimmer Consultants can manage the entire construction process or provide guidance at critical points during the project. Our extensive experience allows you to solicit informed bids, manage the process, and check the installation to ensure contract compliance. Since construction may be a multi-year process, it makes sense to have an informed, knowledgeable consultant to coordinate the effort.
Project Design A well-run construction project starts with solid Project Design. This overview of the rehabilitation strategies addresses structural capacity, surface and subsurface drainage, condition of previous repairs, condition of utilities, and curb condition.
Construction Documents Zimmer Consultants can help you prepare the plans and specifications necessary to describe the project, request standardized bids, award contracts, and follow up with contractors. We organize these documents into a project manual, which gives you a single comprehensive resource for the entire bidding and construction process.
Construction Observation Field observation is the best way to ensure compliance with the construction documents. For small projects, periodic review by property staff may suffice. But for more complex and costly projects, Zimmer Consultants has experienced staff to monitor and resolve issues. We can help with contract compliance all the way through project closeout and invoice review.