Below is a really good figure of the equipment used in the surface milling/recycling/paving process. It was produced by The Wirtgen Group. They manufacture milling machines, crushers, hot mix asphalt plants, pavers, and compactors, like a vertically integrated conglomerate. Interestingly, Wirtgen is a corporate subsidiary of the John Deere Company.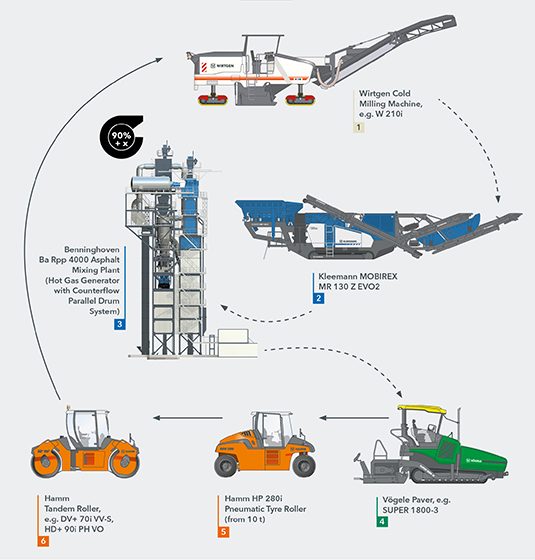 Anyway, the process starts at the top with surface milling of the existing asphalt concrete pavement. Trucks haul the milled asphalt concrete; known as Recycled Asphalt Product (RAP) to the plant yard where the RAP is crushed to the appropriate sizes for mixing into the asphalt plant. In the plant the RAP is heated and mixed with virgin aggregate and asphalt cement.
Trucks then haul the hot mix asphalt concrete to a job site where it is dumped into the front hopper of a paver (the green vehicle). The pavers spreads over the ground a uniform layer of mix. Compaction rollers (the two orange machines) then make five to eight passes over the mix to compact and remove air voids between the aggregate. Once the mix cools, it can be opened to traffic. 
Figure from www.wirtgen-group.com/en-us/